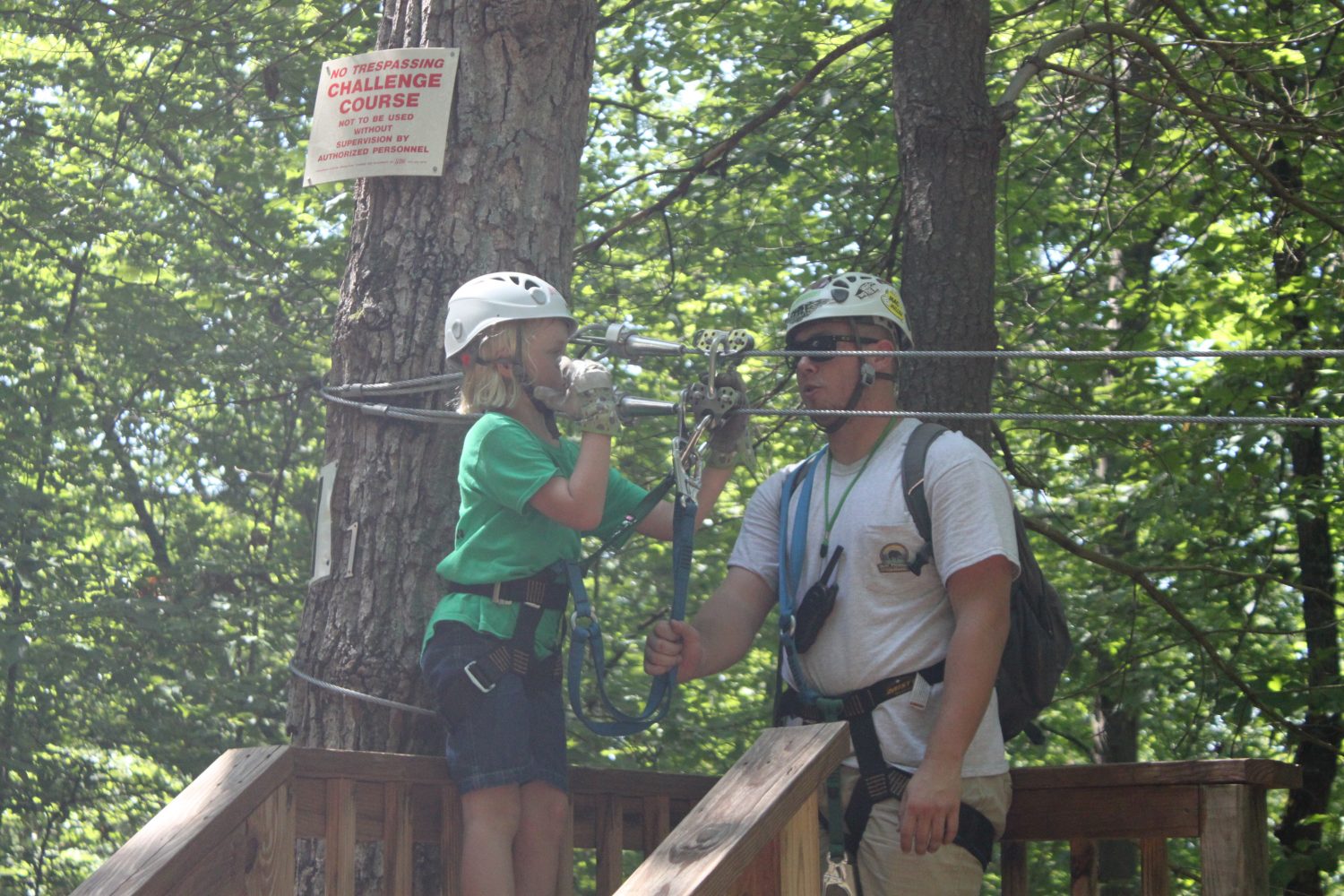 What if I have never ridden a zipline or used a climbing wall before?
What are the requirements for riding the Mama Bear Zipline?
What are the requirements for the Baby Bear High Ropes Course?
What are the requirements for using the Bear Scramble Climbing Wall?
How much do the activities cost?
Mama Bear Zipline is $75 for the tour. The Baby Bear High Ropes Course is $20 for two trips around the course. Use of the Bear Scramble Climbing Wall is $15 per half-hour time slot. All costs include safety gear and experienced guides for your adventure.
What is your cancellation policy?
Cancellations are less a $15.00 per person cancellation fee. The remainder of the deposit is refundable if we are given 24-hours advance notice. No shows and cancellations within 24-hours of trip departure are not eligible for refunds. We will try to accommodate a trip change within the same year based upon availability if your change is requested within 24-hours, but we cannot guarantee this.
Are reservations required?
Reservations are always recommended for the Mama Bear zipline. We limit our Reservations are highly recommended for the Mama Bear Zipline and Baby Bear High Ropes Course. We limit our group size per departure to provide you with the best possible experience. If you do not have a reservation, we will always do our best to accommodate you based upon our availability.
What if we miss our reservation time?
Guests are required to arrive at least 20 minutes before the scheduled zipline departure time. Unfortunately, we cannot give refunds for late arrivals. If you do not make your departure time, we still have all the same expenses, and may have turned others away from tours to accommodate your group. Therefore, we cannot refund no-shows the day of the trip. we can be somewhat more flexible for the climbing wall, but, again, we can't guarantee another time that day, and you risk having to wait a longer period while other groups use the wall.
How long does it take to complete the Mama Bear zip tour?
Plan to spend 2 hours on the zip tour, from arrival to landing. Our zipline course is 2700 feet long, consisting of 7 ziplines.
What should I wear?
You will need to wear closed-toed shoes (such as tennis shoes). Wear comfortable clothing, but please avoid anything loose (no scarves, etc.). Long hair will need to be tied back. Women should not wear skirts; very short shorts are not recommended, as they are not as comfortable while wearing your harness. Dress for the weather forecasted for the day of your tour. We do operate in the rain, so please be prepared. Valuables such as jewelry, cell phones, purses, and wallets are best left locked up at our base location. Consider leaving all other valuables at home or locked in your car. Bear Mountain LLC is not responsible for property lost, damaged, or stolen during your tour or climb.
What equipment will I wear on the zipline and for the climb?
Zipline participants are fitted with a seat harness, a trolley system, two lanyards with secure clips, gloves, and a helmet. The equipment is similar to rock climbing equipment, but specifically designed for a zipline tour. The equipment for the Bear Scramble consists of a harness for the auto-belay. Gloves are not needed for this climb.
Do you operate in the rain?
We conduct our tours rain or shine. However, the course will be closed if there is lightening within a certain distance, or extreme winds. Advance notice of closing is not always possible. If we know in advance that we must close, we will try to notify you as soon as we can. If your tour is cancelled due to weather, you may rebook for another time, or we will refund the purchase price of your tour. Tours that were interrupted mid-course are reimbursed as either a full or partial refund depending on location of your tour along the zipline course at time of cancellation. Please dress according to weather. Although rain jackets and/or pants are appropriate, rain ponchos cannot be worn with our safety gear.
How safe is ziplining?
All adventure activities involve certain inherent risks. We have taken numerous steps to reduce the risks involved in the activities we offer. Our ziplines and climbing wall were built by INNER QUEST, Inc, and meet or exceed the industry guidelines set by the Association for Challenge Course Technology. Our guides all complete a intensive training and qualification program. Zipline riders must complete a basic orientation and training on a practice line to learn the basics of ziplining before starting on the course itself.
What if I am afraid of heights?
Many people with a fear of heights find they can easily enjoy both ziplining and wall-climbing. Everyone on the zipline tour is double-clipped to a steel cable at all times. Our guides are trained to follow a rigid set of safety procedures, and accompany you through every part of the zip tour to answer your questions and provide additional support. On the climbing wall, you are always supported by the auto-belay, and our guides are always present to give advice on an assent path, or general support. You are always in charge of how quickly you climb, and how high you decide to go.
Can I zip if I'm pregnant?
We're sorry; both ziplining and climbing are too risky for pregnant women, and the required gear would be uncomfortable for you, as well as of unknown safety for your baby.
Do you conduct zip tours during the winter?
We are open all year, and ziplining in the winter is still a lot fun if you are prepared for it. Clothing designed for skiing, including base layers or long underwear, ski pants, sweaters or vests, ski jackets, and a warm hat are recommended for colder days. Please note that most gloves will not fit under the standard gloves you will need to wear for ziplining, but glove liners are a good idea on very cold days. Again, be prepared for the forecasted weather on the day of your visit and dress accordingly.
Where do we check in?
From the parking lot, walk up the small graveled hill, where our office will be on the right.
For any other questions, please contact us at 540-743-1733 or at info@bearmountainadventure.com. We look forward to your visit!